About Artist > U.S. Army Combat Art Team Vlll (1968-69)
Combat Art Team Vlll
In 1968 I was a soldier in Headquarters Company, 116th Combat Engineer Battalion, a National Guard unit from Idaho that was activated and sent to Vietnam. Before leaving the U.S. our unit was stationed at Fort Lewis, Washington for training to go to Vietnam. Meanwhile, an army poster came through announcing the army-wide Combat Art Program. Interested artists could apply and send a portfolio of their work to the Army Historian in Washington D.C. I applied and later found out after we had been in Vietnam for two months that I had been accepted for the program. Our battalion at that time was building base camps and roads in the central highlands close to Bao Loc about a hundred miles inland from Cam Ran Bay.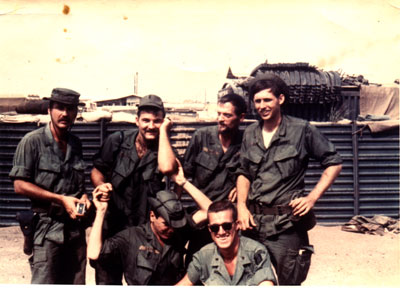 Front Row left to right: Jim Drake, Tom?
Back Row left to right: Vic Reynolds, Roman Rokowski, Fred Engel, Ed Bowen
As a member of Combat Art Team Vlll, and I spent the next two months traveling all over Vietnam sketching, painting, and taking photographs.. Our mission was simple to create art work based on our "impressions" of the war. This left great latitude in how the artwork could be done. The team consisted of five artists and one civilian supervisor (Fred Engel) who previous to this had operated an art facility in an army base in Colorado. The Army divided the country of Vietnam into four divisions called "Corps". As a group we would travel to one of the Corps, split up into pairs and visit various sites including any battles that were going on. Along with our sketching materials and cameras, We were armed with M-16's and 45 caliber semi-automatic pistols.

We would visit a particular Corps and then head back to Phan Rang which served as our base camp and studio while we were in Vietnam. After that we spent the next two months on TDY in Hawaii at the Army Garrison at Scholfield Barracks. Each artist was provided with a large studio and all the art materials we needed to create more involved and larger pieces than could be done in the field. In Hawaii the artists really got to know one another and their work quite well.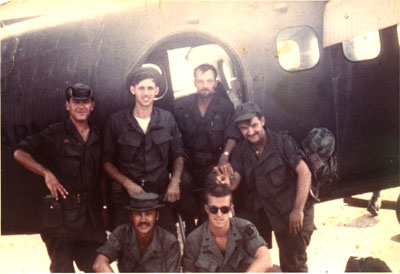 Front Row left to right: Vic Reynolds, Tom ?
Back Row left to right: Jim Drake, Ed Bowen, Fred Engel, Roman Rokowski
Captain Roman Rokowski, one of the artists, produced a magnificent series of woodcuts of dead Viet Cong in a German Expressionist style. Captain Jim Drake's specialty was watercolor and could show a lot of action with his lively style. First Lieutenant Tom ?(I forgot his last name) did some really nice ink drawings with watercolor and was an accomplished photographer. The work of PFC Ed Bowen that really stood out were these strange figure drawings using oil paint and plaster that were very emotional and thought provoking.
Toward the end of our tour in Hawaii we had a public exhibition or our work in Honolulu before went back to our home units. All of our work was delivered to the Army Historian in Washington D.C. to be included in the U.S. Army Military History War Art Collection.

Click here to see Vic's Combat Art